ICME-2
President of ICMI

James Lighthill
Contents
A message from H.R.H. The Prince Philip, Duke of Edinburgh (p. v )
Editor's Acknowledgements (p. ix)
Part I, A Congress Survey
(p. 4)
This chapter contains a very detailed analysis, presumably from Howson, of the planning, choices, and content of the Congress. It is divides into four parts:
Preliminaries and planning
The programme
The congress in action
The work of congress
The congress in retrospect
Part II The invited papers
GORGE PÒLYA,
As I read them
(p. 77)
JEAN PIAGET,
Comments on mathematical education
(p. 79)
SIR JAMES LIGHTHILL,
The Presidential Address
( p. 88)
HANS FREUDENTHAL,
What groups mean in mathematics and what they should mean in mathematics education
(p. 101)
DAVID HAWKINS,
Nature, man and mathematics
(p. 115)
EDMUND LEACH,
Some anthropological observations on number, time and common-sense
(p. 136)
HUGH PHILP,
Mathematical education in developing countries - some problems of teaching and learning
(p. 154)
S. L. SOBOLEV,
Some questions of mathematical education in the USSR
(p. 181)
RENÉ THOM,
Modern mathematics: does it exist?
(p. 194)
Part III A selection of congress papers
E. BIGGS,
Investigation and problem-solving in mathematical education
(p. 213)
E. FISCHBEIN,
Intuition, structure and heuristic methods in the teaching of mathematics
(p. 222)
A. J. MALPAS,
Mathematics and science in the secondary school
(p. 233)
B. E. MESERVE,
Geometry as a gateway to mathematics
(p. 241)
J. B. MORGAN,
The International Baccalaureate
(p. 254)
T. SHIBATA,
The role of axioms in contemporary mathematics and in mathematical education
(p. 262)
M. SIME,
Implications of the work of Piaget in the training of students to teach primary mathematics
(p. 272)
H. WHITNEY,
Are we off the track in teaching mathematical concepts?
(p. 283)
Appendices
The congress committees and officers (p. 299)
The working groups (p. 300)
ICMI and congress recommendations (p. 305)
Films and video tapes on mathematics and its teaching (p. 307)
Index
(p. 315)
Resolutions of the Congress
The Executive Committee decided to endorse formally the following resolutions proposed by working groups:
From the working group on "Mathematics in Developing Countries": "That all possible encouragement and assistance should be given to developing countries to make changes in their mathematical syllabuses and curricula". The cultural background of the pupils and the needs of national development are to be taken into account.
From the working group on "Links with other Subjects at Secondary level": The congress recommends that action be taken in providing support (including financial): to enable teachers of different areas to work together; to publish what has been done in the direction of interdisciplinarity; to encourage individuals and institutions to develop new teaching materials which cross disciplinary boundaries; to produce source materials suitable for use in secondary schools on topics linking mathematics with other subjects.
Moreover the Congress agrees that steps be taken by ICMI to establish a centre for the interchange and dissemination of information on all matters of interest in Mathematics Education; and to encourage cooperation between journals in different languages.
Notes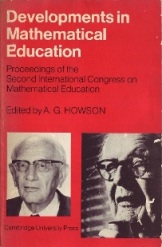 The congress was held in Exeter, 29 August-2 September 1972. The information given on the back cover indicates only a general end of August.
As written on the back cover, the book surveys the work of the conference, and presents a picture of developing trends in mathematical education. Moreover, we read that there were around1400 participants from seventy-three countries.
One volume, format 22,5 cm x 14 cm; IX + 317 pages.
On the frontispiece the photos of George Polya and Jean Piaget.