1658 full members participate, with 582 appointed delegates representing 308 organisations.

In his inaugural address, Hodge underlines the importance of good mathematics teaching:



"It is part of our duty to see that our pupils ... understand that mathematics is an integral part of world culture; not only a pillar of the technological civilization of today, but an essential item in the intellectual equipment of the good citizen"

(

Proceedings of the International Congress of Mathematicians, 14-21 August 1958,

edited by J.A. Todd, Cambridge, Cambridge University Press, 1960, pp. lii).

Among the half-hour addresses by invitation of the Organizing Committee, one is dedicated to education: D. Kurepa,

Some principles of mathematical education

(pp. 567-572).


Kurepa's

contribution comprises the following points: Functional point of view, Definition of a function, Functional principle, Active interpenetration principle, Practical consequence for mathematical education, Shifting principle, Ecological principles, Impact of logic. Kurepa particularly emphasises the importance of connecting the teaching of algebra to the teaching of geometry, of using various methods in teaching, and of involving all of the senses in the teaching process:
"an active interpenetration of methods, domains, topics, is of great importance and usefulness... In the teaching process, the hands are to be active (writing, showing), the tongue, ears, brain, i.e. all organs are more or less in active interdependence and co-operation. Let us remember that for a long time, even in instruction of geometry, and still more in arithmetic, the factors action and perception were either eliminated or at least neglected"

(p. 570)
In section VIII, dedicated to

History and Education,

ample space is reserved to the ICMI.
In the Proceedings are listed 14 talks dedicated to education, and the following 3 reports:

I.C.M.I. First Topic.

Mathematical instruction up to the age of fifteen years

, reported by Professor H. F. Fehr, Columbia University, New York;
I.C.M.I. Second Topic.

The scientific bases of mathematics in secondary education

, reported by Professor H. Behnke, Münster;
I.C.M.I. Third Topic.

Comparative study of methods of initiation into geometry

, reported by Professor H. Freudenthal, Utrecht;

The reports presented by H. Fehr and H. Freudenthal, are also published in

L'Enseignement mathématique

(EM II s., V, 1959, 61- 78, EM II s., V, 1959, 119-145).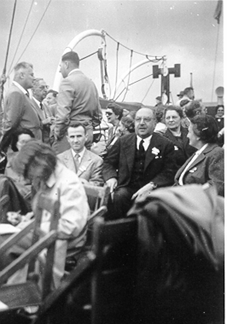 After having noted the fact that some national delegates had misinterpreted the questionnaire and had sent an account of their programmes of geometry, and that "comparative studies in education have to account for a large diversity of educational systems",

Freudenthal

goes on to a rich and profound examination of the teaching subjects and the teaching methods. He notes that there is a general agreement that the first phase of teaching geometry must be concrete and intuitive and that recourse to real problems can considerably improve the conditions of transfer of training and can also be a powerful means of motivation. In the final part of the report, he addresses the theme of the impact that psychological and pedagogical research may have on geometrical instruction in the initiating phase and states:
"All will admit that Piaget's research is highly interesting. But it is quite another thing to apply his results to teaching mathematics, firstly because Piaget's mathematical background has been rather weak, but mainly because Piaget's approach hardly reflects the teaching situation in the classroom, but the rather unusual laboratory situation of the psychologist. Mathematical teaching theory can be furthered by mathematical teachers who are able mathematicians and able educators"

(EM II s., V, 1960, p. 139)
At the initiative of the ICMI is presented an exhibit of books, journals, and documents (some 2000 works from 17 countries) relative to the teaching of mathematics at the secondary level. The organisation and layout of the exhibit is directed by Inspector Dolmazon of the Institut Pédagogique National in Paris (EM II s., IV, 1958, pp. 223-228).